What are your True
Soul Intentions?
Victoria Bourque, Healer, Clairvoyant/Psychic
Full Moon and New Moon Messages, Blog, Creative Outlet, etc.
| | |
| --- | --- |
| Posted on January 6, 2018 at 9:20 AM | |
My Beautiful Twig,  By Victoria Bourque
Confidence in your self betrays no one.  Slights no one.  Compares no one.
There is no need to "Edward Scissorhands" yourself.... or morph into something to feel approval worthy.  
There is no threat to you of parasites or things that would disturb your soil.  You nourish yourself with kind thinking and support.  Your root system is deep and has been a lot of places.  Don't dismiss that.  Those are your roots.  
When you sit back with those scissors...and say: you know what? this is good.  I am good. There is no need for cutting, trimming and lopping off twigs.
Every time a new branch shoots out, wild and free, green and dewy with promise, just let it.  You get an opportunity to embrace something new and amazing.  If you let it grow and don't cut it off. 
It is well with your soul...when you no longer hide who you are or deny who you are or "cut anything out" of who you are.
Sit back, throw out the scissors, and realize your greatness ALREADY is.
My Beautiful Twig
Love, Vicky
PS - Thank you to the powers that be.  <3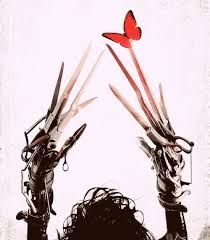 Categories: Soul Intentions, Medium/Clairvoyant, Alternative Healing

0

/